AWOL (Service-Learning)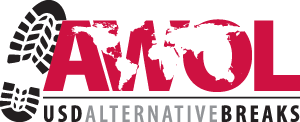 Apply for AWOL Alternative Break. Priority deadline is September 18 for Sustainability in Puerto Rico and September 23 for all other groups. After this date, applications will be considered on a space available basis.
The application on this USD site is a supplemental application for students that have been placed. Please complete the Google Forms application by clicking here: http://www.tinyurl.com/awolcoyotes. Do not fill out an application on the USD site until you are instructed to do so. Thank you for your cooperation.
Each alternative break addresses a specific social issue: AWOL_1920_AltBreakPoster.jpg
Cost:
Contiguous United States (driving): $270*
Puerto Rico (flying): $1500*
*These prices include a $50 administrative (non-refundable) fee as per USD policy in addition to the travel cost. Cost includes transportation, lodging, meals, international insurance coverage (when required), educational materials, and service and activity fees during the week. Additional costs may include (but are not limited to): Souvenirs, additional snacks, meal add-ons if eating at a restaurant, travel meals when flying, passport and visa fees (if required), travel physical and immunization fees (if required).
Fundraising and need-based scholarship options are available.
For more information, visit AWOL on USDInvolved