AWOL (Service-Learning)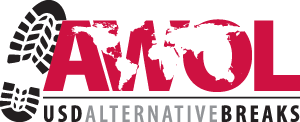 Apply for AWOL Alternative Breaks. Priority deadline is September 10, 2018. After this date, applications will be considered on a space available basis.
Each alternative break addresses a specific social issue:
Winter Break
December 14-21, 2018
Health (Houston, TX)
Education (Indianapolis, IN)
Disaster Recovery and Sustainability (Las Marias, Puerto Rico)
Youth Development (Atlanta, GA)
December 29, 2018-January 5, 2019
Housing and Food Insecurity (Nashville, TN)
Environment (New Orleans, LA)
Addiction (Birmingham, AL)
Spring Break
March 2-9, 2019
Urban Poverty (Albuquerque, NM)
Rural Poverty on Reservations (Pine Ridge, SD)
Summer Break
May 2019 (dates TBD)
Conservation (Appalachian Trail)
Violence Prevention (Chicago, IL)
Alternative Break Cost
Contiguous United States (driving): $270*
Puerto Rico (flying): $1400*
*These prices include a $50 administrative (non-refundable) fee as per USD policy in addition to the travel cost. Cost includes transportation, lodging, meals, international insurance coverage (when required), educational materials, and service and activity fees during the week. Additional costs may include (but are not limited to): Souvenirs, additional snacks, meal add-ons if eating at a restaurant, travel meals when flying, passport and visa fees (if required), travel physical and immunization fees (if required).
Fundraising and need-based scholarship options are available.
For more information, visit https://www.usd.edu/cage/awol-trips.