This page is the brochure for your selected program. You can view the provided information for this program on this page and click on the available buttons for additional options.
USD Direct in Alcala, Spain
There are currently no active application cycles for this program.
Housing Options:
Apartment
Minimum GPA:
3.0
Term:
Fall, Spring
City:
Alcala
Country:
Spain
Service-Learning Programs:
Yes
USD Scholarships:
Coyote Commitment, Mickelson Scholarship, Presidential-Alumni Scholarship, South Dakota Opportunity, Ullyot Scholarship
Language Prerequiste:
None
Course Area:
History, International Studies, Law & Legal Studies, Political Science, Spanish Language & Culture
Language of Instruction:
English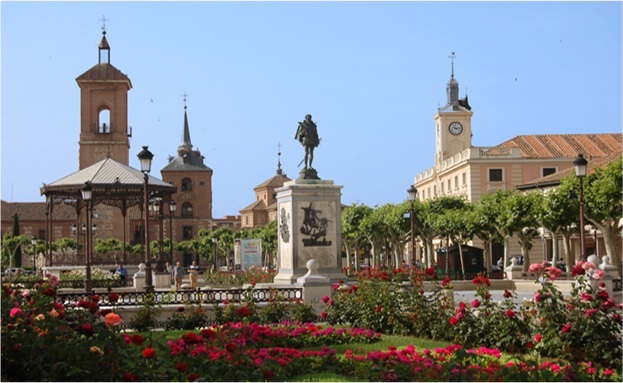 Alcala, Spain



Alcala is a medieval city with a population of 200,000 located just outside of Madrid in the heart of Spain. Students can walk around through the winding, cobblestone streets and discover the historic Moorish, Jewish, and Christian quarters. While resting in the Parque Municipal O'Donnell, students can feed the local population of white storks, which call Alcala home for many months of the year.

Access to the rest of Madrid, from the beaches on the eastern shore, to the urban metropolis of Barcelona, to the mountains in the Basque Region, is very easy. Students can catch a soccer game between Real Madrid and F.C. Barcelona, walk through the historic Alhambra, or hike in the Pyrenees Mountains.



Consortium for Transatlantic Studies & Scholarship



The CTSS program is based at the Franklin Institute, a part of the University of Alcala. CTSS offers USD students two options while studying abroad. The first option allows students interested in pursuing Spanish courses for major or minor requirements to take Spanish language courses during the morning and then CTSS specific courses in the afternoon. The second option allows students who want to focus more on the CTSS specific courses to pursue those alongside an "Introduction to Spain" course.

The CTSS specific courses change every semester and are taught by faculty members from the various schools participating in the consortium. The courses are typically, but not always, focused on topics within political science, criminal justice, and international studies.

The courses for the spring 2014 semester are:

Block 1: Project Service Management
Dr. Mary McCord, University of Central Missouri


This is a broad, hands-on course that requires student involvement, interaction, and community involvement. This course requires students to interact with a Spanish charity or service group. The students will decide on the project, as influenced by their own Strengths, Weaknesses, Opportunities, and Threats. Students will master fundamental concepts and terminology related to the practice of management, learn to apply those concepts in solving the kinds of problems they will face in future employment situations, and develop the interpersonal and team skills necessary for successful home, work, and extracurricular relationships. This course is designed for non-business majors, with the theories and practices applicable to any major and career.



Block 2: Comparative Legal Systems (Dr. Jennifer Carson, University of Central Missouri)
This course will provide an overview of the various criminal justice systems around the world, with a focus on applying criminological theory to explain crime across different settings. We will discuss international crime trends with a focus on the issues inherent to comparing crime data between countries. This course will also cover the differences in policing, courts, and corrections in England, France, Japan, South Africa, Russia, and China.

Block 3: Alfred Hitchcock: British Director/American Director (Dr. Jack Sholder, Western Carolina University)
Alfred Hitchcock was not only "The Master of Suspense," but also one of cinema's greatest filmmakers. As a director, he formulated many of the accepted rules of filmmaking, and virtually every thriller that has come after him bears his DNA. There is a noticeable difference between the films of Hitchcock's English period and his American period, and it is this difference that we intend to explore in this course. We will watch representative films from both periods, and we will discuss them from a cultural and a filmmaking point of view.

Blocks 1-3: Introduction to Spain (Franklin Institute Staff)
The purpose of this course is to introduce students to the culture, history, and politics of Spain, with a few Spanish words and phrases thrown in for good measure.



Student Life



USD students will stay in self-catered townhomes with other participants in the program, who come from the University of Central Missouri, Western Carolina University, and University of Dubuque. Students will have access to the student cafeterias which offer inexpensive lunches; this program does not offer a meal plan.

While on the CTSS program, USD students will have access to the full range of student organizations, the wellness center, and other student-oriented services. Students will receive a local student ID, which will allow them access to flamenco performances in the theater, courses in aikido or archery, and all 14 libraries located on the campus.



Finances



The Consortium for Transatlantic Studies and Scholarship program is a USD Direct program, which allows students to continue to pay USD tuition (USD fees are waived). Students will continue to receive any federal financial aid (with the exception of federal work/study) and most USD scholarships (Coyote Commitment, Mickelson, Presidential-Alumni, SD Opportunity, and Ullyot).

Upon arrival, students will pay a program fee to cover the cost of housing and faculty.



Application Process



USD students must complete the Global Learning application as well as the required forms for the CTSS program. This program is only offered on a semester basis (although students may opt to go for both semesters) and does not include any summer programs.