Faculty-Led Programs
Incoming Freshmen
You can study abroad in England during Summer 2018! USD offers a faculty-led program, worth three credits, that explores leadership, culture, and music. You'll stay at Edge Hill University near Liverpool and visit Manchester, York, and London. Learn more.
2018-2019 Programs
Winter Break 2019
Spring Break 2019
USA: Art and Art History in New York City (ARTH)*
Summer 2019
Australia: Comparative Development and Commercialization of Medical Devices (DCOM)*
Canada: The United States and Global Healthcare Systems (HSC) [Spring 2019 online course with summer travel]
Germany: Health Services Administration Abroad (HSAD)*
Peru: Language, Literature and Culture (SPAN/ANTH/HIST)
USA: How the Sausage Gets Made: Politics and Policy in Washington, DC (POLS/CJUS)
* This program offers both undergraduate and graduate credit.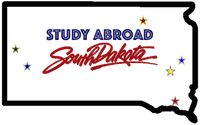 In addition to these USD programs, you can also participate in faculty-led programs offered by other South Dakota Board of Regents institutions.